General Information
Prepayment and Terms: All first orders must be pre-paid. Net terms with approved credit will be offered on subsequent orders upon request. Invoice payments made by Credit Card after an order ships will incur a 3% processing fee.
PayPal Credit Card Processing: Effective November 13, 2023, PayPal will be used to process all credit card payments. This industry-leading platform for payment processing makes our customers' experience smoother and more secure.
Overruns/Underruns: We don't do overruns (unless you ask for them). However, we do ask that you allow up to 5% under. If you need to guarantee exact quantity - that's ok! We can do that with an added Exact Quantity Fee of $12.50 (V).
Lead Time: Production begins the business day following receipt of proof approval and prepayment. Our business hours are Monday-Thursday 8am-5pm, and Friday 8am-3pm, Central Time.
Rush Orders: Must be received by 10am Central Time with complete information and vector artwork to have a Confirmation and Proof returned the same day. Deadline is 3pm Central Time if a proof is requested or prepayment is required. Rush Fee must be included on PO; see product page for pricing.
Proofs and Virtuals: Digital proofs and virtual images are provided at no charge when vector artwork is supplied.
Cap Changes: Available on select Lip Balms for an additional fee. Some restrictions apply; see product page for more details.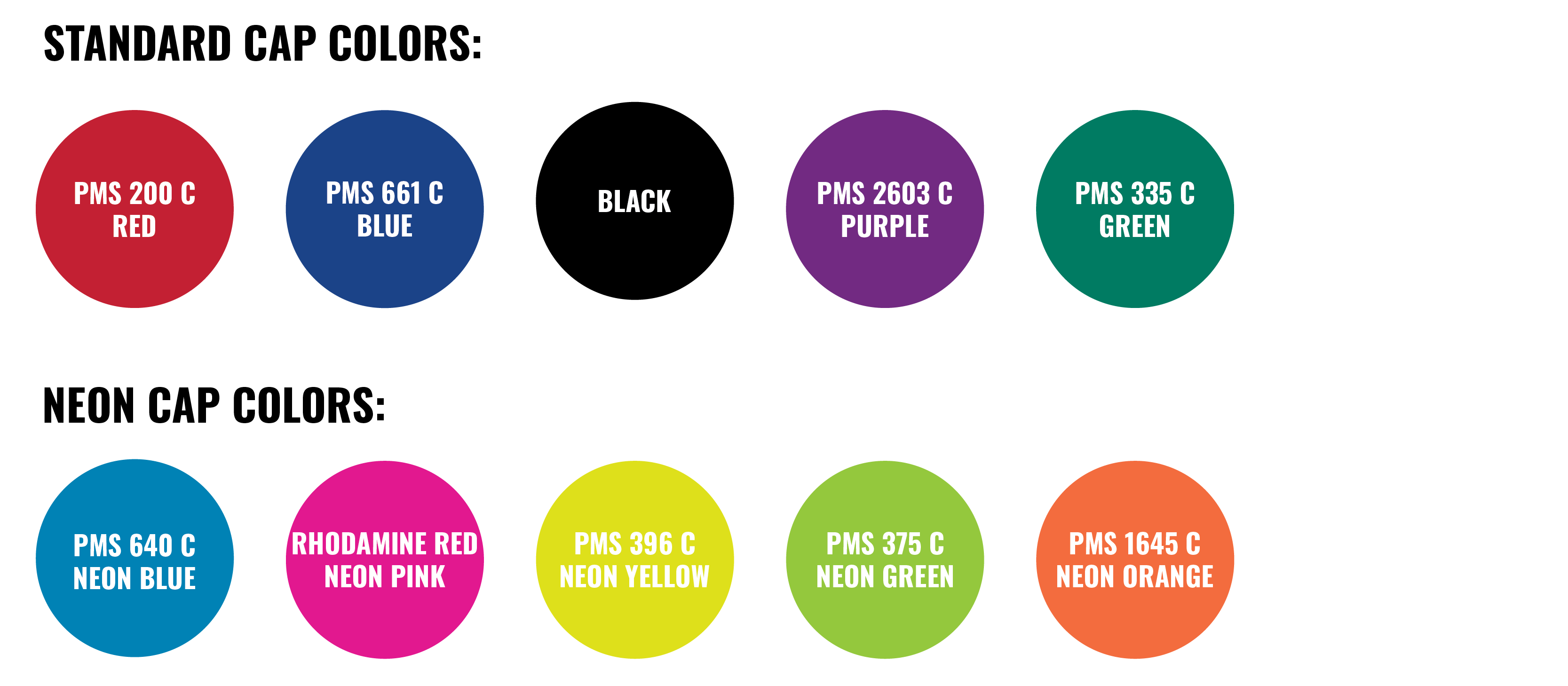 Artwork: Art must be provided in vector, camera-ready format: .AI (Adobe Illustrator), .EPS (Encapsulated Post Script), or .PDF (Portable Document Format). Linked images must be embedded into the art file itself or provided separately.
Setup Fee: Applies to all new orders, and is waived on repeat orders where applicable. Additional setup Fees may apply for kits or additional services such as organic certification, Chrome/Matte special labeling, etc.
Full Color Imprinting: Setup Fee includes a full-color process for all labeled products. Direct Imprinted products are priced for a single-color imprint only. An Additional Color Fee of $0.25 (V) applies for full-color on Direct Imprinted products.
Printing Colors: Our label press prints in Pantone Coated colors, and our Direct Imprinted products are printed in CMYK. You may request exact color matches for no extra charge. If exact colors are not provided, they will be converted to the most similar color defaulted by our design program.
Variable Data: Can be included on any labeled product for an additional $0.08 (R). Please call or email for exact pricing for your project.
Chrome/Matte Special Labeling: A Chrome and/or Matte label may be selected for an additional Setup Fee of $50 (V) and an additional fee of $0.05-$0.10 (R) per piece. Setup Fees cannot be waived on reorders for products with these special labels. Please allow an additional 3 business days lead time for special labels.
Shipping/Freight: Estimated cost of shipping will be added to all orders prior to invoicing if a shipper account is not provided. There is currently no charge to ship on a 3rd party account. The account holder name and billing address is required for processing.
Handling: A fee of $10.50 will be applied to orders for the service of preparing your items to be shipped.
Drop Ships: All orders are shipped via Blind service and drop-shipped direct to customer. For multiple drop-shipments, the first location is free, and a fee of $8.50 (R) will apply for each additional location.
LTL and International Shipping: Estimates can be provided with a full shipping address and delivery instructions - email Orders@RainingRosePromos.com to request more information.